Ya'll, I am SOOO excited to be a part of the She Reads Truth – Open Your Bible launch project!!
She Reads Truth is an online community dedicated to woman reading God's word together and encouraging them in their walk with Jesus. If you haven't downloaded their app — DO IT!! I only recently found out about this amazing set of devotionals and they are insightful, well written, and full of amazing Scripture. The photos alone will pull you in – at least, they did for me, which got my brain curious on what this app was about! I'm currently reading their 1 & 2 Timothy 18-day devotional and its soooo good! Talk about the Holy Spirit pulling on my heartstrings!  You can even follow their current devotional through Philippians on their website or via email.
She Reads Truth will be launching their first published devotional, Open Your Bible, on November 2, 2015. I can't wait to get my hands on a copy!  To give a bit more detail about the devo (since I haven't seen one myself yet!) here is a short description of this study, from Lifeway's website: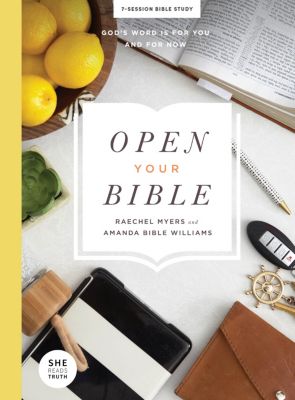 We're all longing to hear from God, aching to know who He is and know His heart. The beautiful truth is this—we can encounter the living God today in the pages of His Word. The Bible is for you and for now. Whether you already open your Bible every day, have never read it before, or struggle to keep up with studying Scripture, Open Your Bible, a 7-session study from the women behind She Reads Truth, will leave you with a greater appreciation for the Word of God, a deeper understanding of its authority, and a stronger desire to truly know the Bible inside and out.
You will learn practical ways to read, study, and apply Scripture with confidence. Using Scripture itself, powerful storytelling, and real-life examples, Open Your Bible will quench a thirst you might not even know you have—one that can only be satisfied by God's Word.
I don't know where you are, dear reader, in your walk with Jesus. But I'll tell you something very honestly – I struggle deeply with my faith in God and if the Bible is relevant.  In my heart, I believe it is so, but a lot of times I will let the doubts take over, let the fear of the unknown fill my soul, and I worry. Oh, how I worry. But then, a hymn or a praise & worship song softly enters my heart until it crescendos so loudly that its all I can think about. Like last night, when I couldn't sleep because my thoughts were running so rampant with worry about finances and not being able to find a job. An hour passed, then two…and then three. Until finally, a plea whispered upon my tongue, "Jesus, make the worry stop. Help me to trust in you." And then – I really don't even know how this happens other than it's Jesus being His awesome self – a song of worship filled my heart.
A song I haven't heard in at least 10 years.
A song that repeats the name of Jesus over and over.
It was so lovely.
Beautiful.
Peaceful.
Jesus, Jesus, Jesus
There's just something about that name.
Master, Saviour, Jesus
Like a fragrance after the rain.
Jesus, Jesus, Jesus
Let all heaven and earth proclaim.
Kings and kingdoms shall all pass away
But there's something about that name.
-Bill & Gloria Gaither
I softly sang the song aloud until I must have drifted off to sleep, because the next thing I knew, it was 9:30am and I was wide awake, ready to tackle the day with energy.
I think for me, this bible study is much like that song — It is a moment where I can call on Jesus' name and actually rest in His presence. A moment where I see and feel for myself the goodness of God. A moment that can only be orchestrated by a loving Creator.
I can't wait to open my bible and begin reading and studying through this devotional! In the meantime, I'll keep using the She Reads Truth app and the good ole-fashioned way — the paperbacked version of the Good Book!